QBE Foundation local grants – employees choice recipients
We are delighted to share the stories of the three recipients of our QBE employee choice grants for 2022 – Mentoring Men, Jigsaw and OzHarvest.
Mentoring Men: Proving accidental conversation is the best medicine
The $40,000 local grant from the QBE Foundation will enable Mentoring Men to expand its reach and services – which CEO Simon Jarvis believes is much needed.
Mentoring Men provides free one-to-one life mentoring for men who need support in their lives. The idea that early intervention can prevent a problem from escalating is at the heart of what they do. And when the statistics show 75 per cent of people who take their own lives are men, it's easy to see why this service is needed.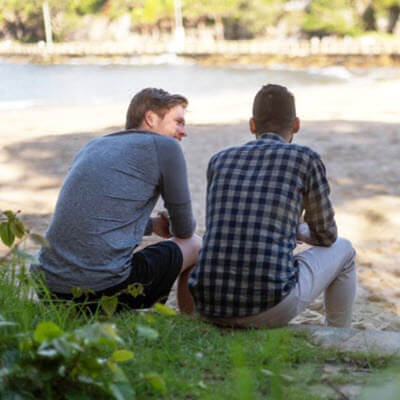 "We're very much focused on prevention," says Simon.
"The program is designed around supporting men going through challenges and changes in their lives. They don't necessarily have to be negative changes – it could be having a first child, buying a house, or a relationship breakdown.
"But we're trying to encourage men to talk about their problems, so they don't become bigger than they need to be and affect the rest of their lives."
Mentoring Men was founded in 2019 by Ian Westmoreland, who, nearing his retirement, needed someone to speak with – and couldn't find anyone.
"Ian started Mentoring Men with $50 and a barbeque at his house, and three years later, we've got 700 mentor-mentee relationships and have supported over 1,000 men in their lives," says Simon.
Helping men talk
Initially based in Sydney, the program has expanded to Victoria and Queensland, with around 750 mentors available to help men in need.
The concept of their mentoring program is that it's one-on-one, led by both the mentor and mentee, who decide on an arrangement that suits them best.
Mentors and mentees are matched based on their life experiences, location and common interests. While some conversations may happen over a video call, most are in person, centred around an activity where conversation can happen naturally.
"Some people like to connect for two hours each week, and for others, it's once a month," says Simon.
"We find that when there's a specific activity or something done together, we get better outcomes, rather than just sitting face-to-face having a chat.
"We call it accidental talking. It could be while playing golf, playing tennis, doing some woodwork, watching a movie – we find that's when better conversations occur."
Growing Mentoring Men – with a little help from the QBE Foundation
With the $40,000 grant, Mentoring Men will provide suicide prevention and mentor training to 12 volunteer mentors to support 12 new mentees through the program. This will enable the program to grow more widely so 'no man walks alone'.
Mentoring Men has achieved huge growth since its inception and is delivering an incredibly valuable service. The employee choice nomination came as a result of a QBE team member's personal experience as a volunteer mentor with the organisation.
With a focus on providing more training programs, the organisation is in the process of creating an online learning management system to complement the mentoring program and help people long term. It's also entering the corporate world to provide life mentoring training to young and emerging leaders.
Jigsaw – helping people with disabilities succeed in mainstream employment
Sometimes, it's only when personal experience presents you with a hurdle that you realise you need to jump at all. And that's exactly how Jigsaw, a social enterprise that helps get people with disabilities into long-term, mainstream employment, was born.
"Laura and Jordan O'Reilly founded Fighting Chance (Jigsaw's parent non-profit, which builds sustainable social businesses that help bridge gaps that people with disability face) in 2011 after seeing the experience of their younger brother, Shane, who had a disability," explains Paul Brown, Jigsaw CEO, who co-founded with the O'Reillys.
"He was approaching leaving school, and as the worlds of Laura and Jordan were opening up, his world was closing down, as there was little opportunity for him to do anything other than recreational activities after school – even though he had some business ideas and wanted to work."
Being the change
In a bid to address the challenges people with disabilities face when entering the workforce, Jigsaw was launched in 2014. They now operate from four locations in Sydney, Brisbane, Melbourne, and Adelaide, as well as online.
Jigsaw offers an end-to-end pathway to employment, including 1:1 and group training sessions, skill development, and paid employment experience – as well as helping graduating Jigsaw trainees and their employers transition into their new relationship. Their purpose is to address a systemic problem: that the government-funded 'job agency' model for people with disabilities often fails.
"Our target is to improve the unemployment rates of people with disability across Australia, by ensuring people succeed in the mainstream workplace after they've finished with Jigsaw," says Paul.
"Research from 2017 shows that when going through a traditional recruitment model, only around 30% of people with disabilities keep their job longer than three months, and that's what we want to change."
Creating a future
Eight years on, the Jigsaw business has a three-stage model that works to help achieve that change.
Jigsaw Academy offers a workplace-based and online training program that helps people gain transferable skills and CV, job application and interview coaching, while Jigsaw Digital provides people with disabilities the opportunity for paid employment.
Once someone is ready for a job beyond Jigsaw, Jigsaw Connect supports them and their new employer, to give their transition to mainstream employment the greatest chance of success.
"Through Jigsaw Digital, we offer digitisation and other services to businesses, including claims processing for insurance companies," says Tim Hayes, Program Manager at Jigsaw.
"This gives people a real job in a safe environment where they can learn about work. We then help prepare them for a job in the mainstream employment market."
QBE Foundation local grant – providing invaluable support
The local grant will be used to support 16 people with disabilities during their first year of work – something Tim says is critically important to achieving a long-term, successful outcome.
"We believe there are three very special ingredients to getting all of this right," says Tim.
"One is the training and preparation of the individuals, so they have the confidence and capability to enter a workplace. The second is ensuring the workplace is prepared, too – we need to build confidence with the hiring manager and employer, so we deeply understand the positions and the environment.
"The third is enabling a successful transition, and that's where the grant will really help us to provide each of those 16 people and businesses with that support."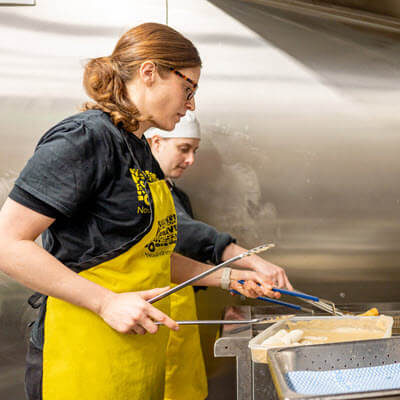 OzHarvest: Supporting at-risk youngsters through education
Most of us are familiar with the yellow and black OzHarvest vans driving around our towns and cities.
And many of us will be aware of the organisation's initial proposition – to reduce food waste by redistributing surplus food to those who need it most.
"While our food rescue operations feed hungry people and help reduce waste, we know it isn't going to solve the overall problem," says Belinda Woollett, Nourish Program Manager at OzHarvest.
"That's why we run several education programs to create positive change and help tackle the big issues of food waste and food insecurity."
One of those education programs is Nourish.
Helping at-risk youngsters get back into education
"Nourish was first launched in Sydney in 2015, after a pilot the year before. Since then, the program has grown and now also runs in Adelaide and Newcastle," Belinda explains.
Nourish is an 18-week program that gives groups of at-risk youth the opportunity to earn a Certificate II in Kitchen Operations, which is presented to them at a graduation event at the end of the course.
"We do a block of foundational skills; getting students to work as a team, increasing communication, self-esteem, and confidence," she says.
"They do everything from kitchen skills to front-of-house skills, serving coffee, customer service – everything that goes into hospitality."
One of the challenges, however, is providing the necessary emotional and mental health support to the students.
"Anxiety and depression are the two most common mental health conditions we see in our young people," says Belinda. "But, trauma, abuse, drug and alcohol, juvenile detention – you name it, we see it."
Why a replacement support network is key
To give the students the best chance of success, they need serious levels of support – something which previously fell into the remit of the trainers.
Belinda believed the program would achieve more if dedicated youth workers were available to support the participants, leaving the trainers to train.
A youth worker was placed in each of the three Nourish programs, with immediate rewards. That's where the QBE Foundation local grant comes in.
"If you have an individual having a panic attack, you need to help them – however it impacts the rest of the students too," says Belinda.
"By having a youth worker there, working with people who've often lost their support network, we give them the best opportunity to succeed in the program, and afterwards, too."
The $40,000 grant from QBE Foundation will enable them to keep the youth workers in place.
"The outcomes we see are incredible," says Belinda. "Some students go back to school; some go into further education; others go into employment."
And the youth workers help here, too – preparing them for job interviews, conducting practice interviews and helping them find the right clothes to wear.
The challenge of tackling food waste and food insecurity is significant and multifaceted, but educating and supporting individuals is at its heart.